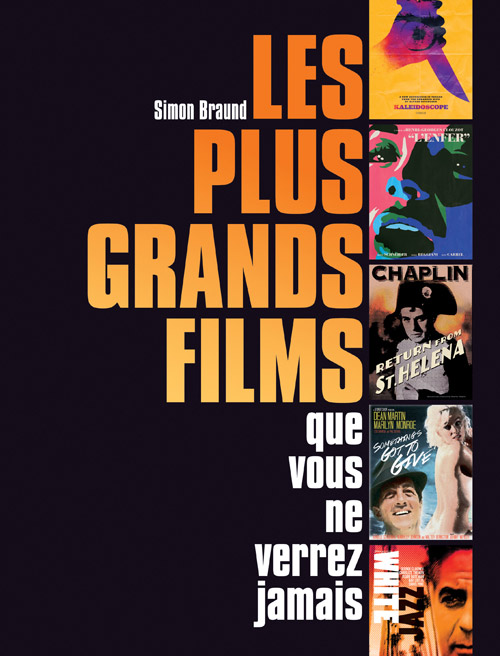 LES PLUS GRANDS FILMS
que vous ne verrez jamais
Simon Braund
Il y a les grands films que tout amateur de cinéma connaît ou se doit de connaître, et il y a ceux sur lesquels ont travaillé les plus grands, réalisateurs, acteurs ou encore scénaristes, et qui n'ont pourtant jamais vu le jour.
De Return from St. Helena de Charlie Chaplin à The Lady from Shanghai de Wong Kar-wai, en passant par L'enfer d'Henri-Georges Clouzot, The Other Side of the Wind d'Orson Welles ou Superman Lives de Tim Burton, cet ouvrage raconte l'histoire de plus de cinquante « chefs-d'oeuvre » du cinéma, parfois légendaires mais souvent inconnus du public, que vous ne verrez jamais.
Des films inachevés, victimes de leur contexte historique, artistique, humain, technique ou économique, qui se mettent pourtant à exister dans votre imagination grâce aux affiches conçues pour l'ouvrage, et aux nombreux extraits de scénarios, storyboards et photographies les accompagnant.
À travers l'histoire de ces films, c'est celle du cinéma qui nous est contée (ses plus grandes stars, ses promesses et ses trahisons, ses contraintes et ses enjeux) dans cet ouvrage incontournable pour tous les passionnés du 7e art.
Lire un extrait du livre au format PDF :
Something's got to give (1962) de George Cukor, avec Marilyn Monroe et Dean Martin
EDITIONS DUNOD
Parution
: 23 octobre 2013
ISBN
: 978-2-10-070199-5
Format
: 182 x 248
24.90 €
Partagez :


Bande annonce
Les films
Des années 1920 aux années 1950
Return from St. Helena, Charlie Chaplin, 1920-1930
Giraffes on Horseback Salads, Salvador Dalí, vers 1930
¡Qué viva México!, Sergei M. Eisenstein, 1932
A Princess of Mars, Bob Clampett, 1936
Brazzaville, 1943
Jésus, Carl Theodor Dreyer, 1949
La guerre des mondes, 1949
No Bail for the Judge, Alfred Hitchcock, 1958-1959
Les années 1960
Something's Got to Give, George Cukor, 1962
La Genèse, Robert Bresson, 1963
L'enfer, Henri-Georges Clouzot, 1964
Le voyage de G. Mastorna, Federico Fellini, 1965
Kaleidoscope, Alfred Hitchcock, 1967
Napoléon, Stanley Kubrick, 1967-1971
Don Quixote, Orson Welles, 1969
Les années 1970
Fifi Brindacier, la fille la plus forte du monde, Hayao Miyazaki, 1971
The Day the Clown Cried, Jerry Lewis, 1972
The Other Side of the Wind, Orson Welles, vers 1973
La tempête, Michael Powell, 1975
Dune, Alejandro Jodorowsky, 1977
Warhead, Kevin McClory, 1977
Star Trek: Planet of the Titans, Philip Kaufman, 1977
Who Killed Bambi?, Russ Meyer, 1978
Les années 1980
Night Skies, Steven Spielberg, 1980
Romance of the Pink Panther, Clive Donner, 1980
The Texans, Sam Peckinpah, 1981
Moon Over Miami, Louis Malle, 1982
La cerisaie, Lindsay Anderson, 1983
The Cradle Will Rock, Orson Welles, 1984
Megalopolis, Francis Ford Coppola, 1984-2005
The White Hotel, Mark Rydell, Bernardo Bertolucci, David Lynch, Emir Kusturica, Simon Monjack, depuis 1988
Leningrad, Sergio Leone, 1989
Les années 1990
Ronnie Rocket, David Lynch, vers 1990
Nostromo, David Lean, 1991
The Defective Detective, Terry Gilliam, depuis 1993
The Aryan Papers, Stanley Kubrick, 1994
Crusade, Paul Verhoeven, 1995
The Hot Zone, Ridley Scott, 1995
Superman Lives, Tim Burton, 1998
Les années 2000
Batman: Year One, Darren Aronofsky, 2000
The Captain and the Shark, Barry Levinson, 2001
To the White Sea, Joel et Ethan Coen, 2002
Halo, Neill Blomkamp, 2005
The Lady from Shanghai, Wong Kar-wai, 2005
Gates of Fire, Michael Mann, vers 2006
Gladiator 2, Ridley Scott, vers 2006
White Jazz, Joe Carnahan, 2007
Black Hole, David Fincher, 2008
The Trial of the Chicago Seven, Steven Spielberg, 2008
Shantaram, Mira Nair, 2008
Nailed, David O. Russel, 2008
Gemini Man, Curtis Hanson, 2009
Frank or Francis, Charlie Kaufman, 2012
Potzdamer Platz, Tony Scott, 2012
JAMAIS SUR VOS ÉCRANS, Les bonus
An American Tragedy, Sergei M. Eisenstein, 1930
It's All True, Orson Welles, 1942
Adam and Eve, Leo McCarey, 1947
A Day at the United Nations, Billy Wilder, 1961
Up Against It, Joe Orton, 1967
Le marchand de Venise, Orson Welles, 1969
The Deep, Orson Welles, vers 1970
La conjuration des imbéciles, d'après John Kennedy Toole, depuis 1980
Edward Ford, Lem Dobbs, années 1980
Autant en emporte le vent, Sergio Leone, vers 1985
Double V Vega, Quentin Tarantino, depuis 1995
Pinocchio, Francis Ford Coppola, 1995
The Alienist, Curtis Hanson, Philippe Kaufman, 1996
The Man Who Killed Don Quixote, Terry Gilliam, vers 2001
Rendez-vous with Rama, David Fincher, vers 2002
Wonder Woman, Joss Whedon, vers 2007
Phantasmagoria: The Visions of Lewis Caroll, Marilyn Manson, vers 2008
Pinkville, Oliver Stone, vers 2008
Simon Braund
Auteur anglais vivant à Los Angeles, Simon Braund a collaboré à Empire pendant dix ans et a écrit pour beaucoup d'autres journaux et magazines, dont le Sunday Times, Q, l'Observer et Time Out.
Les plus grands films que vous ne verrez jamais de Simon Braund est traduit de l'anglais (Royaume-Uni) par Jean-Louis Clauzier, Laurence Coutrot et Emmanuel Dayan.